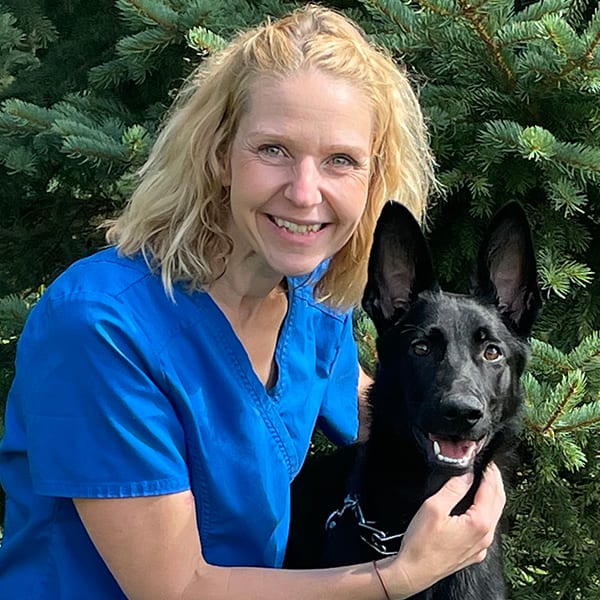 Dr. Malueg
Dr. Jessica Malueg is a local native, she grew up in Orfordville, WI joined Badger Veterinary Clinic in August 2023. Dr. Malueg comes with several years of small animal experience as she has been veterinarian in Greenfield, WI since 2010. She earned her DVM degree from the University of Illinois in Champaign. Prior to vet school, Dr. Malueg attended UW-Platteville where she earned her Bachelor of Science in Biology. She has a special interest in small animal medicine and surgery including dentistry, and enjoys the challenge of diagnosing diseases and working with owners to help provide their pets with the best care. She appreciates building relationships with client and will provide medical care and advice throughout all life stages for their pets.
Dr. Malueg has had a lifelong compassion for animals. As a child she and her family always had pets including dogs and cats. When she was 6, shejoined the local 4-H club. During her 12 years in 4-H, she showed several types of animals including rabbits, guinea pigs, horses, dogs, and dairy goats and was involved in many other projects as well. Through her experiences in 4-H and by having pets and shadowing local veterinarians, Dr. Malueg's' compassion for animals and science grew during her teenage years and led her to pursue a career in veterinary medicine.
Regarding Veterinary Medicine, Dr. Malueg says "There is never a dull moment and veterinary medicine is constantly changing which keeps us on our toes. Learning about new procedures, new medications and treatment options is exciting and keeps the profession moving forward." She appreciates working with a team of doctors where veterinarians can share their knowledge and experiences with each other to aid in the most complete care for our patients. Dr. Malueg is an AVMA member and attends local meetings and conferences to continue to learn new skills and treatment options for her patients.
Dr. Malueg and her husband Ryan recently moved from their home near Milwaukee to the Brodhead area. They have three daughters who are excited to enjoy life in the country. They currently have just one dog, a German Shepherd named Jameson but plan to add more animals soon as they would like to have a hobby farm and small homestead.
In her free time, Dr. Malueg enjoys spending time outdoors with her family and friends. She is an avid country music fan and will attend concerts when she can. She and her family cheer for the Packers and Brewers. They enjoy family vacations and hope to travel more in the future as their kids get older.
Interesting Facts
Jessica has a 3 year old German Shepherd named Jameson that her husband surprised her with when he was a puppy.
Jessica spent a semester at the University of Georgia in college as part of a national student exchange program.