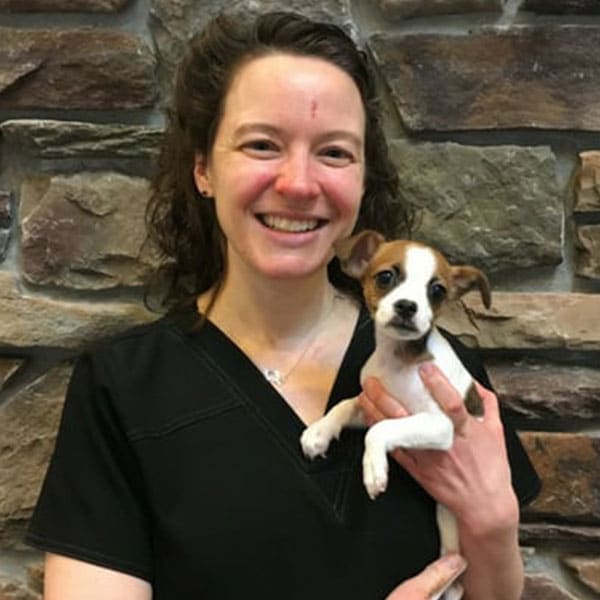 Dr. Reed
Dr. Katie Reed, a native of Appleton, WI, joined Badger Veterinary Hospital in 2005 upon earning her Doctor of Veterinary Medicine from UW-Madison. Prior to entering vet school, she completed a Bachelor of Science degree in Animal Science at UW-Madison. In addition to primary care, Katie's clinical interests include exotic animal medicine and client education. Dr. Reed is committed to veterinary medicine as evidenced through her continuing education and her community involvement. 
Katie attends continuing education classes annually. The various classes she has attended are offered nationally through the UW- Madison, Wisconsin Veterinary Medical Association, American Veterinary Medical Association, and the CVC.
In addition, Dr. Reed takes her profession to groups locally. She has served as a 4-H leader for veterinary science and has talked to both the Milton and Janesville schools about careers in veterinary medicine. Katie and her husband are actively involved in the FFA Alumni Association.
In her downtime, Katie would prefer to either read, rollerblade or just be active outside. She and her husband are avid sports fans who particularly love the Badgers, Brewers, and Packers. They also enjoy little getaways to Galena, IL and Door County, WI. Their family includes their two daughters, Lucy and Leah, and a cat named Calvin.
"The joy I receive from practicing veterinary medicine has far exceeded my expectations. I am constantly challenged and rewarded by the interactions I have with my clients and their pets." Dr. Reed admits, "I think veterinary medicine is the perfect career for me. It's the cat's meow!"
Katie is a member of the American Veterinary Medical Association, the Wisconsin Veterinary Medical Association and the Future Farmers of America Alumni.
Interesting Facts:
Katie has traveled to the Riviera Maya and would like to do so again.
Katie has an incredible sense of humor.
Katie tried kayaking in Hawaii.
Katie loves adventures like hot air balloon rides over Madison and zip line tours in the Dells.
Katie wants to zorb (the sport of rolling down a hill inside a giant inflatable ball).
Katie loves to sing. In fact, she toured Eastern Europe with her high school choir.