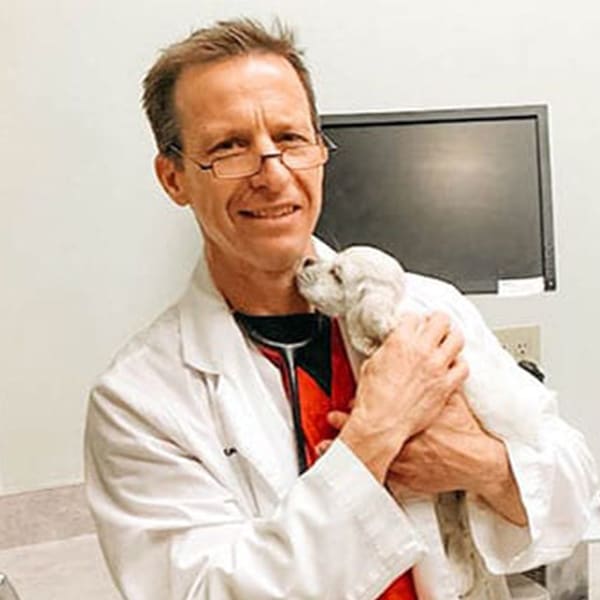 Dr. Kreier
Dr. Kevin Kreier earned his bachelor's degrees in Animal Science and Veterinary Sciences from Illinois State University and the University of Illinois. Kevin earned his Doctor of Veterinary Medicine from the University of Illinois, College of Veterinary Medicine in 1990. He is a native of Illinois. Dr. Kreier joined Badger Veterinary Hospital as a small animal practitioner in 2002 and became a partner in 2008. In addition to primary care, Kevin loves a challenge and is motivated by diagnostics as well as soft tissue and orthopedic surgery.
"Diagnostics in veterinary medicine can be challenging because of the limited communication from our patients. However, once a diagnosis is reached, and treatment is underway, I find tremendous satisfaction in watching these animals regain their strength and continue to live healthy, full lives."
Professional development is important for Dr. Kreier as he continues to advance his options in diagnostics and surgery. His focuses in continuing education include orthopedic repair and technique.
Arthrex CCL Tightrope and Corkscrew Repair Systems Pre 2010
Dr. Kreier was the first practitioner in Southern Wisconsin to perform the tightrope technique to repair an ACL tear.
The 19th Annual Complete Course in External Skeletal Fixation 2011
TPLO Surgery for ACL Injury 2015
Advanced Fracture Repair 2016
Advanced Canine Orthopedic Sports Medicine and Regenerative Medicine Workshop 2018
Advanced Tibial Plateau Leveling Osteotomy 2019
Sports Injuries and the Treatment of Joint Instability 2020
Dr. Kreier is a current member of the State Veterinarian Examining Board 2016-2020. His professional affiliations include the American Veterinary Medical Association and the Wisconsin Veterinary Medical Association.
Kevin, his wife Becky, and their daughter Megan live in Janesville with their two yellow labs, Maddie and Molly. They like to donate their time and stay active in their church. During Dr. Kreier's time off, he enjoys running, hiking, biking, and traveling. Some of his favorite destinations have been Maui, Oahu's North Shore, Florida's Gulf Coast, and St. Simon's Island in Georgia.
Interesting Facts:
Kevin has three brothers and one sister. All five siblings live in different states.
Someday, Kevin would like to travel to Venice, Italy.
Kevin would like to parachute from an airplane, but Becky won't let him!
Kevin's favorite band is the Eagles.
While growing up, Kevin swam competitively.
Kevin's meticulous practice of medicine follows through in all areas of his life, including building maintenance at both Badger locations.