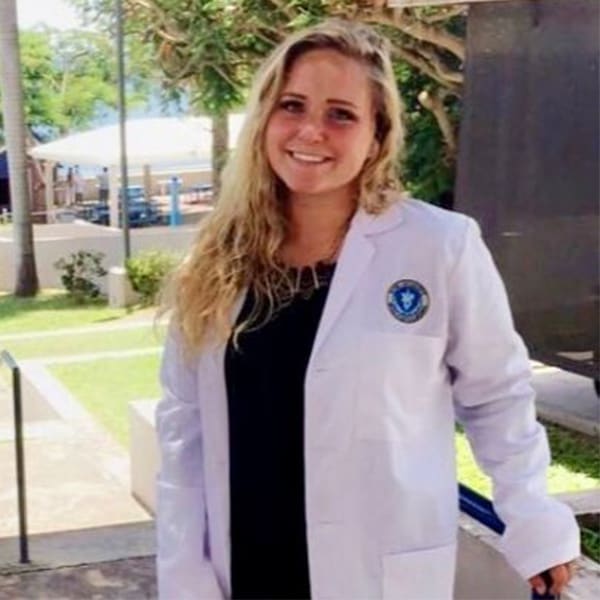 Dr. Sheetz
I was born and raised in Janesville, Wisconsin. I attended Ross University School of Veterinary Medicine and completed my clinical training at UW Madison. During my time in vet school, I became interested in animal behavior. I took an extra animal behavior elective and was the secretary of Ross's student chapter of the American Veterinary Society of Animal Behavior for one year. I was also interested in animal behavior's role in shelter medicine since so many of the beloved pets we encounter are shelter rescues. As a result, I became fear free certified in shelter medicine. In addition to animal behavior, my other clinical interests include exotics, small animal internal medicine, and soft tissue surgery. 
Prior to veterinary school, I attended UW – Platteville where I earned my undergraduate degree in Animal Science with a minor in Chemistry. While I was there I spent two years volunteering as a veterinary assistant at a mixed animal practice, volunteered at the local humane societies, and spent one year as an intern assisting the keepers and veterinarian at the Mississippi River Museum and Aquarium.
From an early age, I knew I wanted to work with and help animals. As I got older, I realized I also found a lot of joy in helping people. One of the many wonderful things about veterinary medicine is that it provides us with the unique opportunity to do both.
Interesting Facts:
I earned my first-degree black belt from AKF martial arts in Janesville at 12 years old
My grandpa was from Germany and I still have some family over there. I can speak some German and hope to continue learning before visiting again one day.
I played soccer and rugby at UW – Platteville, both of which I still enjoy playing when I can.
I have a 6-month-old kitten named Peach and live with a 2-year-old Rock County K9 named Kamo. I absolutely adore them both!
While in vet school, I enjoyed snorkeling and hiking. In the warmer times of the year in Wisconsin, I love going camping, boating, and swimming.
I took sign language lessons while in vet school and hope to continue learning ASL in the future.