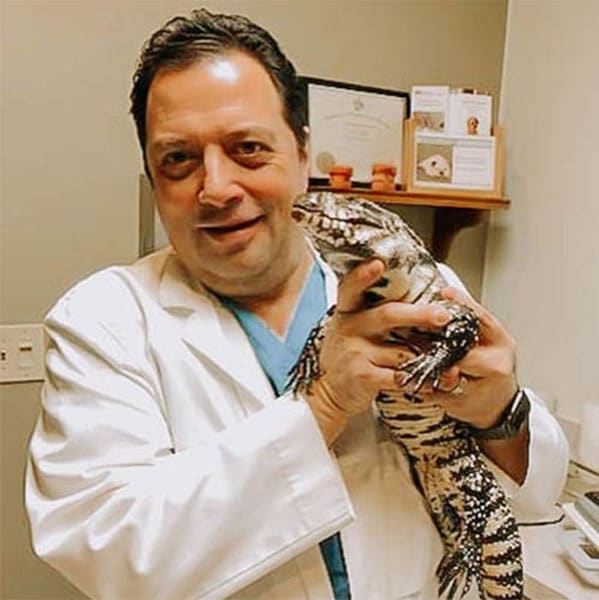 Dr. Servantez
Dr. Steven Servantez, a native of Iowa, earned his Doctor of Veterinary Medicine from Iowa State University, College of Veterinary Medicine in 1989. He joined Badger Veterinary Hospital as a small animal practitioner in 1992 and became a partner in 1996. Dr. Servantez's veterinary interests include exotics, small animal medicine, and soft tissue surgery. 
"The unconditional love our animals bring to us and the love we have for them are more powerful than we can understand. I know it's powerful. I just don't know how or why. The important part is that through wellness, prevention, diagnosis, treatment, and resolution, I am able to enhance the lives and dignity of my patients so their humans can enjoy them more fully while they are here on earth with them. I knew as a young child that I would be a veterinarian. Still today, I am as passionate about it as I was as a child."
Professional development is an important piece of Steven's commitment to practicing small animal medicine. In addition to his memberships in the American Veterinary Medical Association and the Wisconsin Veterinary Medical Association, his continuing education focuses have been in exotics and internal medicine.
When Dr. Servantez isn't practicing medicine or serving on the various volunteer organizations he is involved in, he enjoys photography, worldwide travel, music, and friends. Steve and his wife Julie live in the Milton area; they have four grown children, two dogs, and five cats.
Steve is active in the communities he serves:
Interesting Facts
While in college, Steven volunteered for Blank Park Zoo in Des Moines, Iowa.
Steven and his wife Julie own a 1978 VW Bus. They call it Jerome.
Steven's household includes four cats, one with no eyes, and a Rottweiler.
One of the ways Steven reduces stress is through photography – he even writes for a photography magazine.
Steven is an avid horologist.