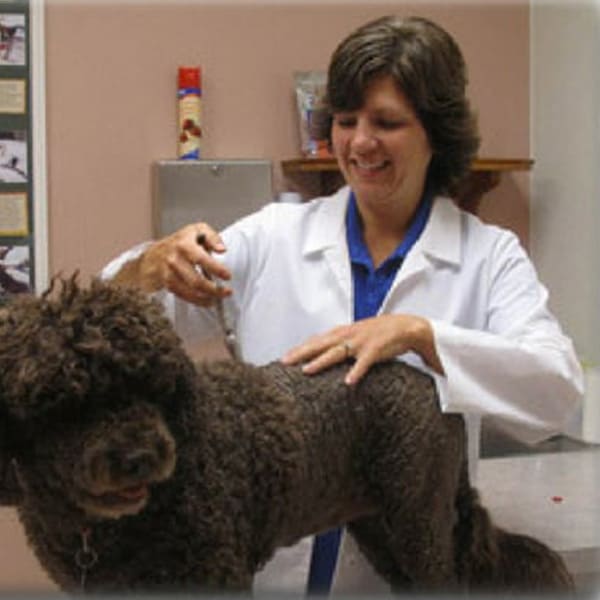 Dr. Nolte
Margo Nolte, DC, is a native of Wisconsin. After growing up on a dairy farm in Southern Wisconsin, she attended UW-Platteville and then went on to Palmer College of Chiropractic where she earned a Doctor of Chiropractic degree in 1989. 
Prior to opening a chiropractic office with her husband in Janesville in 1995, Dr. Nolte practiced in Tennessee and South Milwaukee, WI. In addition to chiropractic care, Dr. Nolte is certified by the State of Wisconsin as a Nutritional Consultant and is a member of the Wisconsin Chiropractic Association.
Dr. Nolte's continuing education courses have opened many new doors for her and her practice. She has studied animal chiropractic care, physiotherapy, neurology, orthopedics, pediatrics, treatment and management of sports injuries, low back injuries, whiplash injuries, carpal tunnel syndrome, and TMJ syndrome.
"I enjoy working with animals very much. I like spending time with the animals and the variety that it adds to my work. It's exciting to see how chiropractic care not only helps the animals with the problems that they are seeing me for but how it also enhances their lives in other ways, such as increased energy and enthusiasm. By treating the animals, I am not only enriching the life of the animal, but also the lives of the pet's family members. A healthy pet leads to a happy family."
When Dr. Nolte isn't working, she devotes her time to her family. She keeps busy with her son's basketball activities and her daughter's dance competitions. In her free time, she enjoys biking, gardening, and playing the piano and guitar.