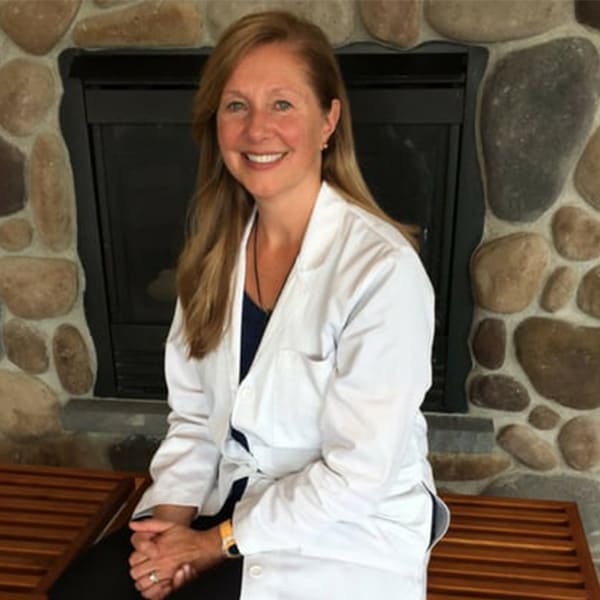 Dr. Kuzdas
Dr. Kellie Kuzdas graduated from the UW-Madison School of Veterinary Medicine in 1987. After graduation, Dr. Kuzdas continued her education and completed an internship in large animal medicine and surgery at the University of Prince Edward Island in Canada. Since then, she has worked in a variety of clinical settings across the country, including Alabama and Pennsylvania. However, she always seems to find herself coming back to Wisconsin where she has practiced both small animal medicine and shelter medicine for the past 16 years. 
Her clinical passions include dermatology, internal medicine, and especially geriatric medicine.
"I can certainly say that veterinary medicine is never dull. You just never know what may come through that front door. In just one day, I saw such a variety of clinical cases ranging from a dog with acute blindness and glaucoma in his left eye, to another dog who had ingested a 1/4 pound of gravel from the driveway and then onto a cat with a viral-induced skin condition. Like a said … never a dull moment."
Dr. Kuzdas's professional affiliations include the American Veterinary Medical Association (AVMA) and the Wisconsin Veterinary Medical Association (WVMA).
Dr. Kuzdas has worked at the Humane Society of Jefferson County, where she managed the animal medical unit and was responsible for the spay/neuter program. "Shelter work is a labor of love. It is so rewarding to help animals in need and collectively find permanent, loving homes for them. Spending a day at the shelter or helping with a fundraising project among friends isn't work for me. It's heaven."
Dr. Kuzdas spends her free time with her husband. They enjoy traveling, exploring new restaurants, and watching live theatre. She is also quite content just sitting and watching classic movies or reading a good book. Her summers are filled with bike riding, hiking, dabbling in her perennial garden as well as enjoying local music festivals.
Interesting Facts:
Just like Dr. Servantez, Dr. Kuzdas has loved Volkswagons. However, her van named Pumpkin started on fire on her way to a veterinary emergency. It ended up blowing up on the side of the interstate, engulfed in flames, and her emergency pager melted in the car.
She entered the Alice In Dairyland contest. She spent a week having breakfast on the farm and touring local dairies in Kenosha County. She was chosen as 2nd runner-up — pretty good for a city girl from Madison with aspirations of becoming a veterinarian.
Kellie and her husband love to travel. 5 years ago, they traveled to South Africa for 3 weeks. They made it to that southernmost tip of the African continent, and they had their safari experience at a reserve called Quartermain's Camp where they stepped back in time, sleeping on cots in raised white tents and sitting fireside while guides prepared dinner. There was no electricity, but somehow they had running hot and cold water in the shower and their own flushable toilet right outside of their tent.