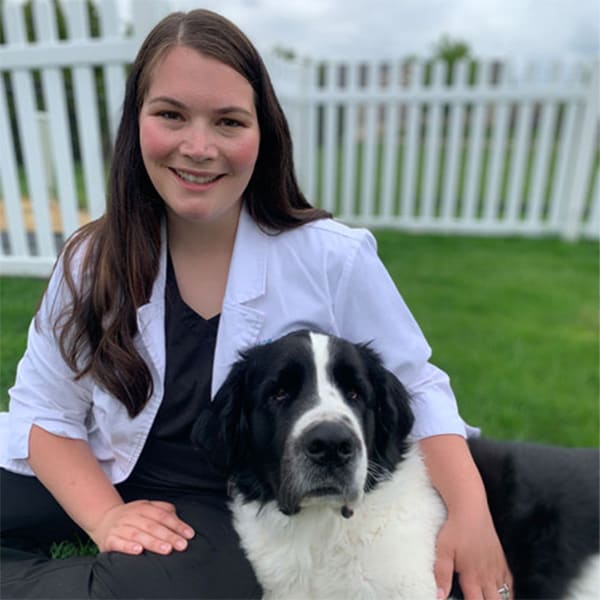 Dr. Allen
Dr. Sheryl Allen Gould, born and raised in nearby Footville, graduated from UW-Madison School of Veterinary Medicine in 2014. Prior to veterinary school, she obtained her Bachelor's degree in biology from UW-Madison. Dr. Allen continued her education after vet school by completing a small animal internship in medicine, surgery, and emergency medicine at Purdue University in West Lafayette, Indiana. Since completion of her internship, she has been a small animal practitioner in south-central Wisconsin and joined Badger Veterinary Hospital in 2020.
Dr. Allen's clinical interests include oncology, internal medicine, dermatology, and dentistry. She is a member of both the American Veterinary Medical Association (AVMA) and Wisconsin Veterinary Medical Association (WVMA).
"I look forward to building relationships with my clients and patients that lasts a lifetime, from puppyhood to the rainbow bridge."
Dr. Allen currently resides in Evansville, WI with her husband Erik and two sons, Derek and Dawson. She has a giant St. Bernard/Newfoundland mix named Macy, a severely allergic cat named Nick, and a bearded dragon named Kermit. During her free time, she loves playing hockey and volleyball, baking, and spending time with family.
Interesting Facts:
Sheryl played trombone for 4 years in the University of Wisconsin Marching Band.
Sheryl is hooked on cruising and loves traveling the world. She has been to at least 13 countries, including Israel, Australia, Costa Rica, and Panama, and already has plans to visit St. Maarten, Honduras, Puerto Rico, and Italy in the next 2 years.
Some of Sheryl's travels were for volunteering. Her trip to Costa Rica and Panama was spent vaccinating, spaying, and neutering animals in underserved communities. Her trip to Australia was for a penguin conservation project.
Sheryl has been playing competitive ice hockey for over 20 years and is currently assistant captain for the Milwaukee's Top Shelf women's hockey team.
Sheryl LOVES all sports and is an avid Packer, Badger, and Blackhawk fan.